Eduard Friedrich Wilhelm Oldendorp (*1795-†1881?)
A hunderterzirkel, a sort of planimeterzirkel with a recording wheel used with a harp-planimeter for calculating the area of an irregular figure on a map or a chart. The hunderterzirkel was invented by Oldendorp in around 1830, for which he received the Prussian Große Goldene Medaille (great gold medal) in 1831 [1].
Unsigned, but likely made by A. Frerk & Sohn (Celle & Hannover) from whom we have an identical example of a hunderterzirkel in a comprehensive drawing set, and probably dates from around 1850-1875.
Noteworthy is that from 1835-1841 Oldendorp lived in Meinholz, close to Braunschweig; from 1842-1856 in Abbensen, and from 1857-1867 in Langlingen, both of the latter close to Hannover and Celle [3].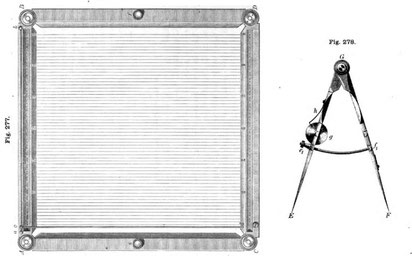 Above illustration from: Hunäus; Die geometrischen Instrumente der gesammten praktischen Geometrie, deren Theorie, Beschreibung und Gebrauch, Carl Rümpler, Hannover, 1864. Google Books.
NOTES / REFERENCES 
1. Verhandlungen des Vereins zur Beförderung des Gewerbefleißes in Preußen, Elfter Jahrgang, Berlin, 1832, p.200.
2. Rechnerlexikon Oldendorp Planimeter and http://rechnerlexikon.de/artikel/Nichtintegrierendes_Planimeter
3. Hof- und Staats-Handbuch für das Königreich Hannover 1835-1867; Wikisource: Staatshandbücher und -kalender
4. Eduard Friedrich Wilhelm OLDENDORP  *17.10.1795 in Eitzendorf.
    Father: Georg Friedrich OLDENDORP *31.01.1752 in Lavelsloh
    Mother: Eleonore Marie Sophie BARTELS *15.03.1766
    Wife: Auguste MYLIUS  *18.06.1808 in Celle DE-NI
    Daughter: Marie OLDENDORP *1839 in Meinholz 
    Source: genealogy.net
5. Göttingen Collection of Mathematical Models and Instruments  Oldendorp Harp-planimeter
6. Gravenhorst, F.; Die Construction und Anwendung eines Flächenmaassstabes beim Gebrauch des Planimeterzirkels, Cöslin 1864.
    Google Books.
7. Schikorsky, Isa; Private Schriftlichkeit im 19. Jahrhundert: Untersuchungen zur Geschichte. De Gruyter, Max Niemeyer, Tübingen 1990, p.421. 
8. A modern 20th c. planimeterzirkel with a recording wheel (described as lithographers' dividers) is found in the Lietz 1919 catalogue [Internet Archive], and again in their 1926 catalogue.